Family Dentistry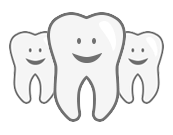 Keep Your Family Healthy and Smiling.
Did you know that gum disease and tooth decay are almost totally preventable? We like to see families with children from a very young age so that we can discuss some of the skills and habits that can make all the difference to future dental health. A whole family approach to this topic can prepare children more effectively for good dental health as adults too.
Please bring toddlers with you to the practice so we can introduce them gently to the concept of dental care. We have a fun and friendly approach with the whole family, whilst keeping an eye on what matters.
Children under the age of six are seen free of charge for routine dental care, provided that one or both of their parents are registered patients with us and regular attendees. From the age of 6 years our Dental Health Plan is designed to help your children stay dentally healthy throughout life.
Get in touch today – we'll be happy to book you an appointment or help you with any queries.